What's Happening
Connect with us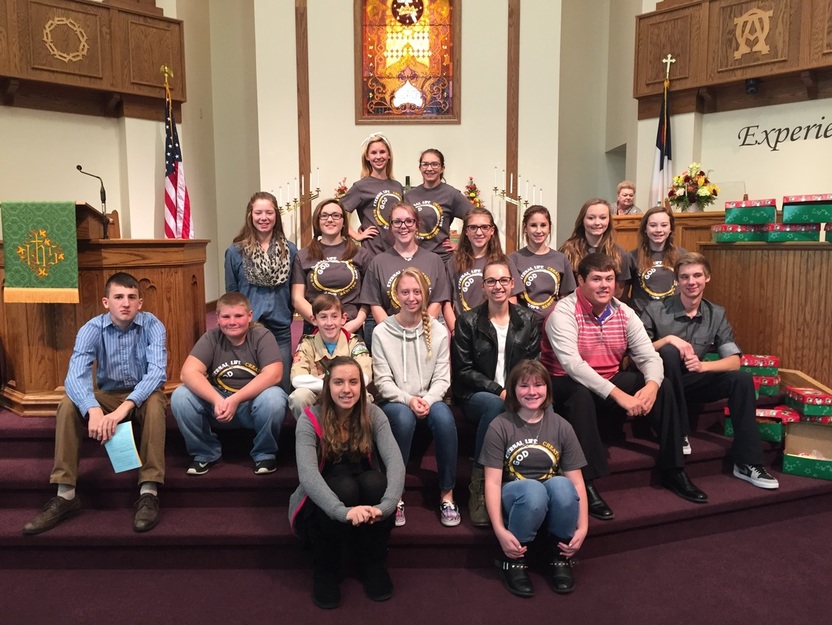 Women's Activities
Started in 2004, the First United Church of Christ Women of F.A.I.T.H. (
F
riendship
A
nd
I
nspiration
T
hrough
H
im) organization was formed to involve women in ministries and social activities designed for their talents and interests. Since that time, the group has continued to be involved in a wide variety of church activities. They have an annual meeting each January and then gather whenever a project is underway. Women of all ages are invited to participate in planning activities and fundraisers.
The goal of The Women of F.A.I.T.H. is to assist women in their spiritual and emotional growth, provide support, acceptance, friendship, and inspiration through fellowship, encourage women to grow in their relationship with the Lord and each other, and empower them to bring others into a personal relationship with Jesus Christ.
Active committees within the Women of F.A.I.T.H. include:
The Angel Ministry which ministers to persons in need of temporary meal assistance during times of recuperation.
The College and Military Support Ministry which provides small gifts and cards to members attending college or serving in the military.
The Book and Bible Study Group which provides learning and fellowship opportunities for women throughout the year.
The Prayer Shawl Ministry which knits or crochets shawls available for giving to community members during times of sorrow or celebration.
The Bereavement Committee which provides meals for fellowship time after a funeral or memorial service.
Mothers and Others Banquet Committee which plans an annual spring banquet to be enjoyed by the women of the church and their guests.
Men's Activities
The Second Saturday Men's Breakfast provides a chance for fellowship and discussion for the men of the congregation. This intergenerational group meets at 7:30 a.m. on the second Saturday of each month from September through May. Currently they meet at Dutch Valley Restaurant in Sugarcreek. In addition to getting together for fellowship, they are willing and able to take on a service project for the church or community.
Senior Activities
The Sugarcreek First United Church of Christ Senior Adult Ministry meets for lunch the first Monday of each month at the Garaway Senior Center in Sugarcreek. They also host and sponsor bingo for everyone at the Center that day. Additional activities for seniors are planned as opportunities arise, and suggestions for social and educational events are always welcome.

​
Youth Activities
A variety of events are available for youth attending First United Church of Christ. During the worship hour, there is a well-staffed nursery available for children younger than kindergarten age. Those who attend the service are invited to come to the front of the church for an interactive children's message. Following this, they are escorted to Children's Church for a lesson, craft and game. They remain in this setting until their adult companions pick them up.
In addition to the opportunities for learning during the worship service, the following fellowship groups are available to the youth:
Kids4Christ—This group, serving children from Kindergarten through fifth grade, meet bi-weekly on Sunday evenings for games, crafts, social events, and inspirational FUN!!
Teens on a Mission—Middle school and high school aged youth also meet every other Sunday evening for a lesson and some great fellowship. They sponsor fundraisers for the purpose of helping others in the community and also for undergoing mission projects and trips. At least twice a year, the youth in this group are responsible for the worship service and often incorporate skits into the programs.
Young Adult Ministry—As our young adults graduate and head off into the world, they need a place to belong. They meet for lunch monthly for fellowship and a discussion of keeping God in their lives going forward. They often help with our nursery and are active members of the church.
Youth Sunday School
Children from kindergarten through fifth grade are invited to attend various Sunday School classes, the topics of which are announced each fall. These classes are held during the hour preceding worship service.
Middle-School and Senior High aged teens have their own class where they consider the issues that they are dealing with as they transition from youth to adults.
Connecting Through Music
Music is very important to the people attending First United Church of Christ as evidenced by the beautiful pipe organ in our sanctuary. We sing both traditional and contemporary music and invite talented musicians from the area to take part in our services. In addition to piano and organ, music is provided by the following:
Adult Choir—This group meets to rehearse on Thursday evenings from September through May and sings two to three Sundays a month. No auditions are held, and music is provided at no cost. In addition to the Sunday services, the adult choir is always an important part of our special services such as those on Christmas Eve and Maundy Thursday.
Praise and Worship Team—Each service from September through May includes at least two numbers from our Praise and Worship Team. This group includes singers as well as two guitar players and a pianist. The music is usually contemporary and creates a high-energy start to each service. Practice is usually held on Sunday mornings before services begin.
Adult Bell Choir—A recent addition to our music program is our Adult Bell Choir. They perform one Sunday each month and at special services. Again, no auditions are required to join.
Children's Bell Choir—A source of joy for all who hear them, our Children's Bell Choir has been performing for many years. After seeing a guest adult choir who provided music for one of our Sunday services, one of the children attending Sunday School asked if he could do that as well. Using a system of colors and numbers for prompting the ringing of each bell, the system works well for even our youngest children. In addition to playing for church worship services, this group has been asked to perform at community events as well.
Connecting Through Learning
Growing in our faith is an important tenant for the people at First United Church of Christ as is shown by our statement of purpose. The following opportunities to learn and grown are available for those who attend:
Women's Book and Bible Studies—The Women of Faith sponsors book and bible studies for women of the church and community. The only requirement is to obtain the assigned book or buy the bible study workbook. Members can rotate in and out of the group as time and interest dictates. Book studies include both inspirational fiction and nonfiction. Bible studies usually involve a video component as well as discussion. The group generally meets on Tuesday evenings with the schedule and titles to be determined by the group. (See Calendar)
Mid-Week Bible Studies—From time to time the pastor offers an adult bible study on a Wednesday evening or Friday morning. These usually occur in the summer and run from six to eight sessions. (See Calendar above)
Sunday School—Adults and youth have opportunities to learn in the hour preceding worship service during Sunday School sessions that run from September through May. For adults two or three different classes are offered each semester with special programming during Advent and Lent. The Board of Christian Education plans for the children's classes and special Sunday morning events.
Connecting Through Fellowship
After Worship Social Time—Coffee and juice as well as cookies and other snacks are available for people after each Sunday worship service. Enjoy chatting with friends, new and old, while you have a treat.
Fundraising Lunches—Several times a year, one of the church boards or committees will sponsor an after-church lunch in the fellowship hall. These delicious meals are provided for a donation. Money collected has been used for Mission Projects, Sunday School Materials, and Youth Events.
Summer Picnic—One of the events the congregation looks forward to each year is the outdoor picnic and worship service at Winklepleck Grove in Sugarcreek. Sponsored by the Board of Christian Education, the event features fellowship, food, and fun—important elements of a successful service. Dress casually and join us in this beautiful setting. Check the calendar for the date in late August or early September.